Simple and Affordable!
Do you have belongings you need to store away from home or the office? We have safe and affordable self storage containers to rent like that shown below. No contract and no hidden charges.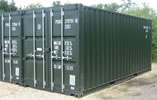 Storage information
If you cannot find the information you are looking for please read the FAQs page or contact us

What Does Wokingham Self Storage Offer?
Wokingham self storage containers come in various sizes of safe and secure self storage containers to rent as storage space. We current have 2 self storage sizes medium and large. Learn more about size and dimensions of our self storage containers.
Our most popular size self storage container is the large size container. Each large size storage container is big enough to store the contents of up to a 4 bedroom house or all the equipment from a medium sized business. Have a look inside a large container to see what you can fit inside, you will be quite amazed.
What do you get with one of our self storage containers?
Wokingham Self Storage containers are large industrial deep sea export containers which offer air tight seal when closed. Our self stoprage containers are totally secure when locked for serious security and peace of mind for our customers. The air-tight seal allows all contents to be protected. We even have a book company storing their books inside on of our container. Click here to see a large photo showing how big the containers are. You fit a boat inside the containers!. Our self storage containers are that large. Some of our customers have self storage for reading.
Wokingham Self Storage Containers Price Promise
Our price promise means that we are cheaper than other similar self storage container providers in our area. We contstantly check other storage providers to be the cheapest. learn more
Latest News
More choice of container sizes for our customers. learn more..
What Customers Say !
Our customers told us they like the simplicity and the affordable prices of our self storage containers. Read our customers testimonials
Safety & Security
Wokingham Self Storage take onsite safety and security very seriously. We have CCTV and also people living on site to protect your possessions. read more
Surrounding Towns
Surrounding Areas
Many of our customers come from within 20 miles or 30 minutes drive of our location to access our self storage containers.