Simple and Affordable!
Do you have belongings you need to store away from home or the office? We have safe and affordable containers to rent like that shown below. No contract and no hidden charges.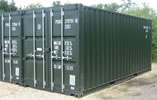 Storage information
If you cannot find the information you are looking for please read the FAQs page or contact us
Customer Storage Testimonials
Here are a few short customer testimonials that we have been sent from our storage customers.
We also have a business case study from one of our business customers who use our storage services. If you would like to know what this customer thought about our services please read the case study to find out more.
This is what some of our other customers thought about our service.
Testimonial 1 (Personal)
Wokingham Storage offered a very simple solution for my storage need. It is a fair price too.
Neil from Crowthorne, Berkshire
Testimonial 2 (Personal)
I moved to Wokingham Storage from another storage provider in the area because they were cheaper. There service has been simple and saves me money. Im very happy here.
Geoff from Bracknell, Berkshire
Testimonial 3 (Business)
I have now been storing my business equipment at Wokingham Storage for a year and very happy with the storage prices. It is far cheaper than any other storage provide locally and the quick and easy access is great.
Sue from Reading, Berkshire
Where do you want to go now?
Home Page / Contact Us / Look Inside a Container / Read Testimonials
Latest News
More choice of container sizes for our customers. learn more..
What Customers Say !
Our customers told us they like the simplicity and the affordable prices of our storage containers. Read our customers testimonials
Safety & Security
Wokingham Self Storage take onsite safety and security very seriously. We have CCTV and also people living on site to protect your possessions. read more
Local Towns
Many of our customers come from within 20 miles or 30 minutes drive of our location.